RENEO 2017
CONSTRUMA 2017 – Full of Liveliness
Exhibitors and visitors alike were satisfied upon the closure of the 36th Construma on Sunday. The greatest home making and construction industry assortment of exhibitions of the Central Eastern European region attracted even more visitors than last year, with nearly 60 thousand guests attending the exhibition at the Hungexpo Budapest Fair Center. The first construction industry job fair was highly successful, which was Hungexpo's way of reacting to one of the greatest problems of the industry. More: here
---
CONSTRUMA HOME MAKING EXHIBITION BUNCH
CONSTRUMA is the greatest assortment of the Hungarian construction industry/homemaking exhibitions and also the leading professional exhibition of the Central-Eastern European region in the field.
Over the recent years, the CONSTRUMA bunch has become a must-see forum. Thanks to continuous developments, by now it covers the entire spectrum of home building from purchasing the real estate through construction until to interior design.
In 2016, the assortment will include the following subject fields:
CONSTRUMA (construction industry)

RENEO

(renewable energy, building engineering)
HOMEDesign (interior decoration, design)
CONSTRUMA GARDEN (landscaping, garden planning)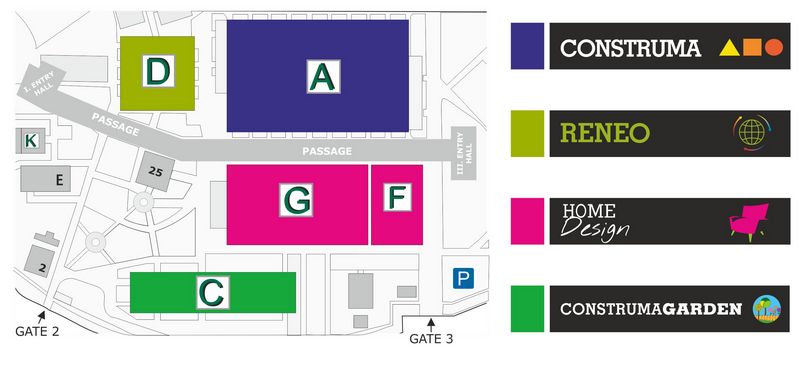 WHAT MAKES IT WORTH TO BE AN EXHIBITOR:
it's the leading professional fair of the region
it's the most prestigious Hungarian trade exhibition
the complex assortment of exhibitions based on the synergy of multiple fields
50,000 visitors or potential customers with high purchasing power
the exhibition has a strong professional nature: 75% professional visitors
extensive professional support, rich professional programs
satisfied exhibitors and visitors
wide media campaign
RENEO
4th International Exhibition for Renewable Energies
The only Hungarian trade fair solely devoted to the subject of green energy. Apart from renewable energies, it also provides opportunities for the presentation of building engineering solutions and products. The exhibition will feature an increasing presence of the latest building automation systems to optimize costs. RENEO also provides a platform to present the related fields of urban management and infrastructural development. In 2016, the range of themes will be expanded to include water management and water treatment.
THE ANNOUNCED THEMES OF RENEO
renewable and alternative energy
heating technology
cooling technology
air, ventilation and climate technology
sanitary technology
pumps and water treatment devices
drainage and sewage-water treatment
fastening technology
measurement, control and regulator devices
urban development, maintenance (real estate development, urban infrastructure)
The folder of exhibition group can be downloaded here.
More information about our visitors....
RENEO 2014 photos:
---
RENEO International Exhibition for Renewable Energies
RENEO was launched in 2013, organised simultaneously with CONSTRUMA (building trade exhibition), HUNGAROTHERM (building engineering), URB:ICON (settlement development). Beside the exhibition a reach trade programme was accompanied to it about the renewable energies and their developing tendencies.
RENEO is organised parallel with determinant building trade and building engineering exhibitions of the Central and East European region (CONSTRUMA? HUNGAROTHERM). It means nearly 50.000 visitors for exhibitors from Hungary and abroad es well, 70% of them trade visitors.
The international trade exhibition includes the topics of renewable energy sources, power generation, - supply, - storage, power plants, energy background industry, building electricity, environmental protection, research and development, services, energy efficient construction methods.
The exhibition is accompanied by a high profile professional conference, focusing on renewable energy sources. As part of the exhibition a two-day conference on building services engineering, comprised of several sections, will also take place again.
Ever since its inception RENEO has been highly popular among representatives of the profession.
---
You can see the video about the CONSTRUMA exhibition group 2014 clicking on the picture below:
Some exhibitor's and visitor's opninion about CONSTRUMA exhibition group 2014 - video made by VGF building enginnering trade magazine